10 Best Home Remedies for Dry Skin in Summers. What to apply for moist and hydrated skin?
Home Remedies for Dry Skin:-
Summers are a difficult time for all of us. With the raging heat and temperature, our bodies and skin become dehydrated. People who already have dry skin have to go through a lot of struggles. Skin dryness gets exacerbated with the increasing heat. Skin requires hydration as much as the body, or else skin goes through break-outs, pipelines, rashes, and sunburn.
To maintain your skin quality, one needs to continuously give some extra care through face packs. We will have a look at some of the remedies that you can follow for hydrated, glowing skin, but before that, let's have a look at some mistakes that can deteriorate your skin's health.
Things to avoid in summers for Moist and Hydrated skin:-
Retain the original hydration and moisture of the skin.
Always read the ingredients before buying any cream or pack, as certain products contain chemicals that are extremely harmful to the skin. Not only do they cause allergies to our skin, but they also extract the natural oils present on our skin.
Your skin needs time to breed. Don't think that too many products will enhance your skin quality. Always keep in mind that a beauty regime has to be followed in moderation and too much of everything is bad. Certain products have chemicals that are even cancerous, so always take a step back, have a look at the ingredients of a particular product, and apply it in moderation.
Be careful of the environment around you. 
When going outside, always apply a liberal amount of sunscreen, cover your face properly, and protect your skin from the sun; otherwise, no matter what you apply to your skin, you will always have problems. When you are inside your home, make sure you are not surrounded by a dry atmosphere. While being in an air-conditioned room feels great, your skin doesn't. It requires hydration and moisture to remain supple and intact.
Avoid Bathing with hot water:
Hot showers feel like a dream, especially in cold weather, but the same goes with your skin. Your skin requires a cold water bath. The hot water extracts the natural oils and moisture from the skin and leaves it even drier than before. Hot water is generally not suitable for your skin, and especially for your face, cold water makes your skin feel supple and healthy.
Dry skin already has a rough texture; scrubbing too often or too much can lead to redness, itchiness, and patchy skin. Dry skin needs hydration. Scrubbing too hard takes away the existing moisture from the skin, leaving the skin feeling even more dry, which often leads to break-outs.
As we have seen the mistakes that should be avoided for healthy skin, let's now move on to the best part of the article, i.e., home remedies to improve your skin health.
1.) Curd and besan mixture:-
Suggested as one of the best methods to remove tan and provide your skin with the best moisture, this pack fulfills every need of your skin; it removes unnecessary tan, gives a sudden glow, and improves the texture of your skin. Mix besan, curd, Haldi, and lemon altogether. Lemon acts as a natural bleaching agent, while Haldi is an antibiotic. Apply the pack for 15 minutes and then gently scrub your skin to remove the pack. Wash your face with normal water and your skin feels fresh and alive again.
2.) Pack of papaya and honey
All the magic lies in the kitchen. You don't have to go out and buy expensive stuff. Peep papaya, remove the seeds, and mash it properly, then add two spoons of honey and one spoon of milk cream. Now apply this for an hour and then wash it off for smooth skin.
3.) Aloe vera and Cucumber Pack:-
Cucumber is a blessing in the summer. Peel it, cut it in half, and grate one half of it. Now add Aloe vera to it. If you have an Aloe vera plant at home, cut the leaves and take out the gel part. It is best suitable for your skin. Otherwise, you can buy aloe vera from the market. Apply the mixture for one and a half hours.
4.) Pack of egg and olive oil:-
Take out the egg yolk, whisk it to make it fluffy, and then add the olive oil. Apply this pack to your skin for half an hour; the olive oil will provide the moisture that dry skin lacks. After 30 min, wash it off with plain water.
5.) Face mask made of milk and honey:-
Mix milk powder and honey and add some water so that a smooth, consistent paste is formed. Apply it for 1 hour and wash off with cold water.
6.) Face mask with avocado and honey:-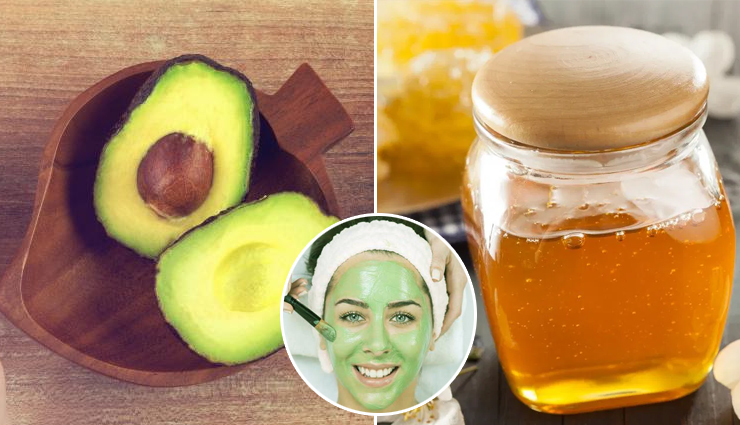 Mash the avocado properly, then mix in the honey to make a consistent paste, then apply the mask for 1 hour and wash it off for clean and beautiful skin.
7.) Rice Flour and Curd Face Pack: Rice:-
is a very popular ingredient in Japan, and we have seen how the skin of people there glows; they have glass-like skin. The main reason has been the use of rice. Mix rice flour and curd to get a thick paste, add some Haldi and lemon, keep the pack for 30 minutes and then rinse it off with plain water.
8.) Ice pack therapy:-
When you wake up in the morning, take out a few ice cubes from your freezer, put the ice cubes in a handkerchief, and apply them all over your face to remove the puffiness from your face and eyes. It will provide your skin with hydration and will. Also, relax your nerves.
9.) Cucumber exfoliation:-
If you don't have a night routine for your skin, just take a slice of a cucumber and rub it all over your skin for at least 5 minutes. You will see a visible difference and your skin will give off a glass-like an effect.